1:700 HMS St. Andrew BB 1920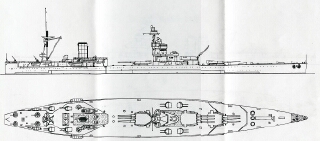 Drawing by Peter A. Marshall

While designing the Invincible (G3) battle cruisers, the Royal Navy also drew up plans for companion battle ships (N3) which would be slower but better protected and armed with 18" guns. The design chosen at the time of cancellation by the Washington treaty was similar to the Invincible but with a single funnel and a shorter hull. The names of the four ships were reportedly to have been the four patron saints of the United Kingdom (Sts. Andrew, George, David, Patrick), but this has not been confirmed. They would have been as formidable as their G3 counterparts if completed.
The kit requires a Tamiya Rodney or Nelson kit to finish with fine details.

Kit Features:
*Craftsman Kit
*Detailed resin hull and funnel
*3D-printed 18" turrets, 6" turrets available from our Shapeways shop

BASIC KIT MSRP $65.00 (includes resin Hull and Funnel)
ORDER THE BASIC KIT HERE:
SHAPEWAYS PARTS:
Order 18" Triple Turrets HERE
Order 6" Twin Turrets HERE

Availability: NOW.