Thanks to Michael Emmerich for use of this image

German light cruiser construction in the years leading up to World War 2 culminated in the Leipzig and Nurnberg, after years of continued experimentation following World War 1 era tactical thinking (resulting in the Emden) and experimentation with the triple turreted 15cm gun in odd layouts (K class). Though powerful, none of these ships were tactically suited to meet contemporary class design requirements, and work soon began on a class that could be built in numbers with a balance of offensive and defensive features.
The 'M' class mounted the same 15cm gun used on the Bismarck class ships in the same lightly-armoured gunhouse. Discarding the useless layouts of the previous classes, the M class had superfiring turrets fore and aft, twin funnels, provision for two aircraft, and good range and speed. Their armoring was on the scale of the previous light cruisers and their torpedo armament was better disposed (quadruple tubes), though four fewer tubes were carried compared to the previous classes.
Six ships were projected (M,N,O,P,Q,R), and three laid down, but none were ever completed.

IHP brings you this project in 1:700 scale as a craftsman kit. The hull and superstructure parts are resin, and we have 3D-printed parts available for weapons and equipment. The modeler may also make use of available plastic parts from Tamiya and Trumpeter for small parts and weapons to complete this kit.

KIT FEATURES:
*Length: 10 1/2 inches (270mm)
*Detailed resin waterline hull
*Detailed superstructure and funnels cast in place
*Resin superstructure, *3D-printed weapons and equipment/detail parts (Modeler can also use available plastic kit parts from Tamiya or Trumpeter)
*Complete Instructions available as PDF files

KREUZER M HULL KIT $49.95. ORDER HERE:
USA ORDERS ($8.00 shipping in USA):
KREUZER M PARTS (SHAPEWAYS): WEAPONS PARTS AND EQUIPMENT.

INSTRUCTION SHEET HERE.

PHOTOS OF SAMPLE KREUZER M HULL:
Photo #1
Photo #2
Photo #3
Photo #4

Resin Superstructure Parts: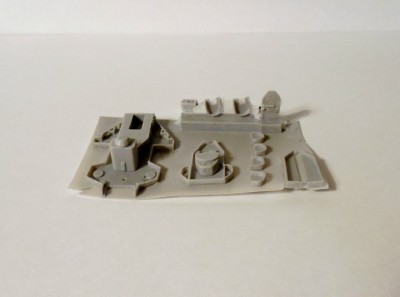 SAMPLE PHOTOS OF ASSEMBLED MODEL (with brass barrels and plastic masts, not included)
Click on the image for a larger photo: