1:700 HMS Invincible (1921)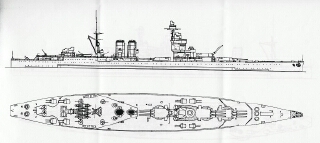 Drawing by Peter A. Marshall

These ships were designed after World War 1 and would have been among the most powerful and capable capital ships ever built for the Royal Navy. Designed in response to the large Japanese and American naval programmes of the day, the Invincible class would have numbered four ships and would have carried nine 16" guns in three triple turrets, mounted forward of the midships section. This would have allowed high-powered machinery to be installed aft. It also saved weight by grouping the armament close together to allow for the protective armour to be concentrated in one area, though good protection was also afforded to the machinery spaces. 30kt was projected for top speed, and though classed as battle cruisers, the Invincibles would have been excellent fast battle ships.
Though cancelled by the Washington Treaty of 1921, the design was recast to become the basis for the Nelson class battle ships, completed in 1927.

The IHP kit is designed as a craftsman kit in 1:700 scale. Some of the parts have undergone upgrading and extra detailing has been added. The kit is now designed to be built and completed using a Tamiya 1:700 Rodney or Nelson kit.

KIT FEATURES:
*Length 15 1/2"
*Detailed Resin waterline hull
*Resin Superstructure pieces (parts specific to design)
*Resin parts for 6" turrets (make-up quantities for parts not included in Tamiya Rodney/Nelson kits)
*Real Anchor Chain
*Instructions

Availability-DISCONTINUED. See your dealer for remaining stock.


FOR A REVIEW OF THIS KIT, CLICK HERE.


FOR ANOTHER REVIEW, CLICK HERE.