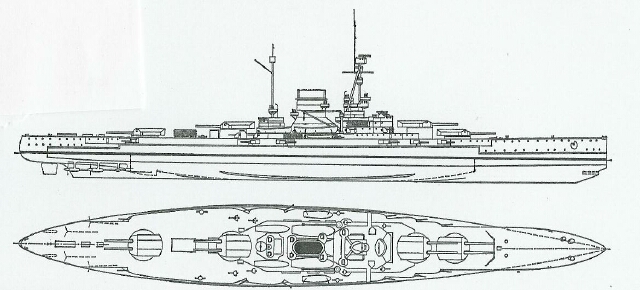 The exploits of the German battle cruisers of World War I have become almost legendary. Their stout construction and ability to absorb battle damage saved several vessels in situations that in any other navy would have resulted in their having been scuttled or lost. The finest examples of this tactical thinking resulted in the Derfflinger class of three ships, with eight 12in guns. A follow-up design, the Mackensen class of four ships, was intended to be larger and faster, with eight 13.5in guns and two funnels.
Three further ships, the Ersatz (Replacement) Yorck class of three ships, would have further continued on the path set by the Mackensen class, but with eight 15-inch guns and a single funnel. This was in response to the British Royal Navy's Repulse class battle cruisers, which were larger but mounted two fewer 15" guns and carried virtually no armour. The German ships' names (Ersatz Yorck, Ersatz Scharnhorst, Ersatz Gneisenau) were provisonary, as the ships were intended as replacements for similarly-named ships lost during the war.
The ships of the Mackensen and Ersatz Yorck classes were all begun, and the Ersatz Yorck class was ordered even before the design was finalized, but none of these seven projected ships were ever completed.

This kit is now available as a 'hybrid' kit, with the hull available in resin and the rest of the parts available as 3D-printed parts from our Shapeways page. You order the hull casting direct from IHP and the rest from our Shapeways page as needed. Not all parts from the original resin kit are available in 3D; these are mostly small parts that are available as detail parts packs from other manufacturers, or from your spares box.

NOTE: Since these ships would have completed in the late 1910s, it is unlikely that they would have mounted antitorpedo nets, which were by that time being discarded by most navies using them, and so they have been omitted from our kit.

KIT FEATURES:
*Length: 13 inches (335mm)
*Detailed resin waterline hull
*Detailed 3D-Printed superstructure, funnels and specific detail parts (available from Shapeways)

HOW TO ORDER ERSATZ YORCK KIT PARTS:



1.Order Ersatz Yorck Resin Hull HERE . Price $59.95. See below to order using Paypal. Free shipping in USA.

2.Order Ersatz Yorck Parts from Shapeways:
a. Superstructure Parts
b. Searchlight Levels
c. Main and Secondary Turrets
d. Directors
e.Funnel and Vents

INSTRUCTIONS HERE.

ORDER YOUR ERSATZ YORCK HULL NOW via PAYPAL!
USA ORDERS:


Secure Online Ordering Via Paypal