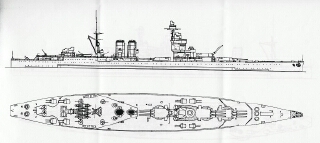 Drawing by Peter A. Marshall


These ships were designed after World War 1 and would have been among the most powerful and capable capital ships ever built for the Royal Navy. Designed in response to the large Japanese and American naval programmes of the day, the Invincible class would have numbered four ships and would have carried nine 16" guns in three triple turrets, mounted forward of the midships section. This would have allowed high-powered machinery to be installed aft. It also saved weight by grouping the armament close together to allow for the protective armour to be concentrated in one area, though good protection was also afforded to the machinery spaces. 30kt was projected for top speed, and though classed as battle cruisers, the Invincibles would have been excellent fast battle ships. Length 862ft (260m). Displacement 48,000 tons Standard.
Though cancelled by the Washington Treaty of 1921, the design was recast to become the basis for the Nelson class battle ships, completed in 1927.


The IHP kit is designed as a craftsman kit in 1:700 scale. The kit is designed to be built and completed using a Tamiya 1:700 Rodney or Nelson kit. The sample shown below was built with the IHP hull, 16in turrets and funnels, and parts from the Tamiya kit for the superstructure, masts and small parts.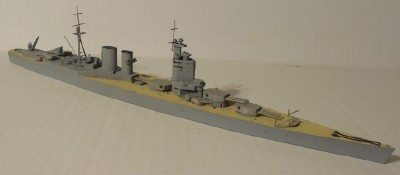 Click to see a built sample model

KIT FEATURES:
*Length 15 1/2"
*Detailed Resin waterline hull
*16" Turrets and Funnels are now 3D-Printed from our Shapeways Store
*Requires a Tamiya Nelson or Rodney to complete

PARTS PLACEMENT INSTRUCTIONS HERE.

MSRP HULL $59.95
Shipping $10.00 in USA, $22.50 outside USA
Availability-NOW. Order now direct from IHP.


Secure Online Ordering with PAYPAL


ORDER FUNNELS AND PARTS HERE.
ORDER 16" TURRETS HERE.
ORDER 6" SECONDARY TURRETS HERE.


For credit card or check orders, click HERE.


FOR A REVIEW OF THIS KIT, CLICK HERE.


FOR ANOTHER REVIEW, CLICK HERE.


Both these reviews are of the earlier Premier version of this kit, but the resin parts are described nicely.