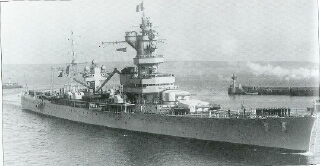 Algerie in 1937 Fit



Algerie in 1942 Fit

Algerie was a one-off design, completed in 1934. France's best heavy cruiser before WW2, she was also the best of the 'Washington Treaty" cruisers, with the best balance of armament, speed, range, and she was well armored. The Algerie was modified several times in her career, with the final modification removing her aft mainmast and installing an AA gun platform. Other modifications changed her funnel cap and the platform levels on her command tower. She was scuttled at Toulon on 27 November 1942, and broken up later.

FEATURES:
*Length 10 12/16" (270mm)
*All-resin kit
*Detailed Resin Waterline Hull with all correct contours and surface detail on deck and sides
*Detailed Resin superstructure with complete bulkhead and surface detail
*Alternate superstructure for all fits
*Choice of Loire 130 or Gordou-Leseurre seaplanes
*Complete ship's boat and AA complement included
*Turned-brass 8" gun barrels
*Brass and plastic rod for masts
*Kit includes all parts to build Algerie in any fit from 1937 to 1942


SUGGESTED RETAIL PRICES:


| | |
| --- | --- |
| 70025 | MNF L'Algerie 1934-1942 |
AVAILABILITY: NOW. Order direct only from IHP.