PROMOTIONAL/GIFT MODELS AND PRODUCTS
IHP now offers a manufacturing service for groups, agencies and businesses looking for short-run promotional models or products with a rail transit or transportation theme. We can produce small runs of models for desktop or shelf display, souvenir shops, gift shops, promotional giveaways and event commemorations.

We can work with our existing product range and tailor our products to your requirements. Or, we can produce an all-new item custom made to your specifications. We can make models mounted on display bases, we can make brass baseplates with printed data, and colored-plastic parts. We can also do point-of-sale and giveaway items such as Christmas ornaments and key chains. We specialize in short-runs of anywhere from 5 to 50 pieces, and we can deliver within a few months. Consider our services when you are on a budget and pressed for time; we may be a faster and cheaper option than going to China, and the Made In the USA label will impress your clients.

TRANSIT MODEL TOYS
Toys are all-plastic, HO-sized representations with fixed rolling wheels. Trolley toys have Bachmann dummy plastic roof poles. Just the ticket for younger transit fans. More types are planned.

PCC Trolley Toy




Click for larger photos
Undecorated versions MSRP $15.00 each. Can be ordered in different plastic colours at no extra charge.
Call for pricing for custom paint schemes and volume discounts for clubs, retail, etc.

Kawasaki single-end LRV Toy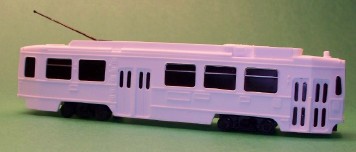 Souvenir toy version of our popular HO Scale SEPTA 1981 single-end Kawasaki LRV model. This toy features the same great detail as our 'scale' model, with window inserts, roof details, 'trucks' with track brake detail and super resilient wheels and couplers (nonworking).
Undecorated versions (assembled only) as shown MSRP $20.00.
SEPTA-painted versions available only exclusively through the SEPTA Transit Gift Shop.

CUSTOM COMMEMORATIVE MODELS



HO Scale KinkiSharyo LRV model for Santa Clara VTA and Goldman Sachs, completed October 2008. We produced six units of this model, cast in white plastic with black window inserts and grey dummy trucks, mounted on a black base. The brass baseplate is printed, and the model has felt 'feet' underneath for shelf and desk display.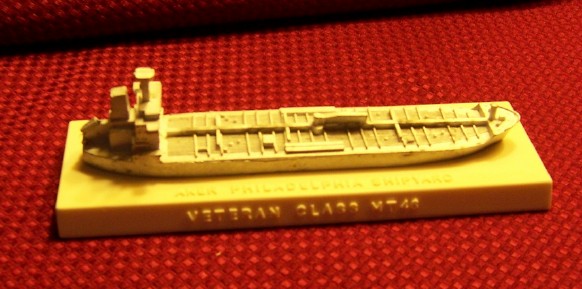 Non-Scale Model of Veteran Class MT46 Tanker built by Aker Philadelphia Shipyard. This model is made of metal and mounted on a cast plastic base with raised lettering. Models were painted black, red and white. Bases were painted brown with lettering picked out in gold. We produced 50 units of this model which measured about 6 inches in length.

Return to top of Page