Click To See Stefano Sappino's ship models, including this IHP 1:700 Invincible G3 battle cruiser!



Above is our O scale Philadelphia 2100-series PCC #48003 built and painted as a Toronto Transportation Commission vehicle. This model is of a vehicle that is still retained by the TTC today for special trips. The model was built by noted custom builder Jean Deschenes.



The above model is an HO scale Kawasaki single-end LRV, built from our kit #87102(discontinued). It was built by Harold D. Johnston of New York City, and won first prize at the Fall Trolley Extravaganza contest in 1997.



Here is our O scale Kawasaki LRV looking right at home on the layout of Mr. Terrell Colson of Des Plains, IL.



This is our O Scale Kawasaki LRV on the layout of Mr. Tony Tieuli. He has powered the model with Q-Car power trucks.



This is our 1:700 Scale USS Lexington CC-1 kit built for the IPMS 2005 Model Contest in Atlanta, GA. Builder Unknown.



Another view of the above model. Builder unknown.



Our USS Lexington CC-1 kit built by Uwe Grella of Germany. It is shown amongst other models, including a Fujimi 1942 version of what the Lexington looked like as completed- an interesting contrast in 1:700 scale, made possible by IHP's release of the battle cruiser version.

Click here for IHP 1:700 USS WYOMING 1902 Monitor kit BUILD BY BOB CICCONI

Click HERE below to see photos of our Red Arrow double-end interurban model built by Philadelphia modeler and East Penn member Rich Allman.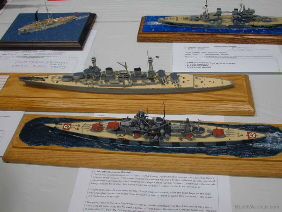 A photo of our Lexington battle cruiser kit built by Martin J. Quinn. (He built it as the Saratoga CC2). The model is shown displayed at the 2008 IPMS Nationals on the contest table.
Click HERE to see Martin's build-up review of the kit.

Return to top of Page