O SCALE KAWASAKI DOUBLE-END LIGHT RAIL VEHICLE
SEPTA KAWASAKI DOUBLE-END LRV KIT

In 1981, the Southeastern Pensylvania Transportation Authority (SEPTA) in Philadelphia, took delivery of 112 single-ended light rail vehicles for their subway/surface trolley routes. These cars were 50' long, 8'6" wide, and had a layout similar to the PCC cars they replaced, but the new cars were a great deal more advanced than the older cars. Higher capacity and greater passenger comfort and friendliness were hallmarks of these new cars. Kawasaki Heavy Industries of Japan was the builder.

While the City of Philadelphia was getting new single-end cars from Kawasaki for the routes in the city, the ex-Red Arrow lines out of 69th St. Terminal in West Philadelphia were getting a modified version for the routes to Media and Sharon Hill, PA. These cars were four feet longer and four inches wider than the single-end cars. They had operator's cabs at both ends, different seating arrangements, and pantographs for current collection instead of the traditional poles.

The kit features a one-piece body shell, roof details and an interior. (Note: Window Inserts, stepwells and underbody are shown but are NOT included.) Instructions are available as a PDF file for assembly of the major components. 3D-Printed parts for the Frame, underbody and dummy couplers are available on our Shapeways shop.

Photo of Kit Components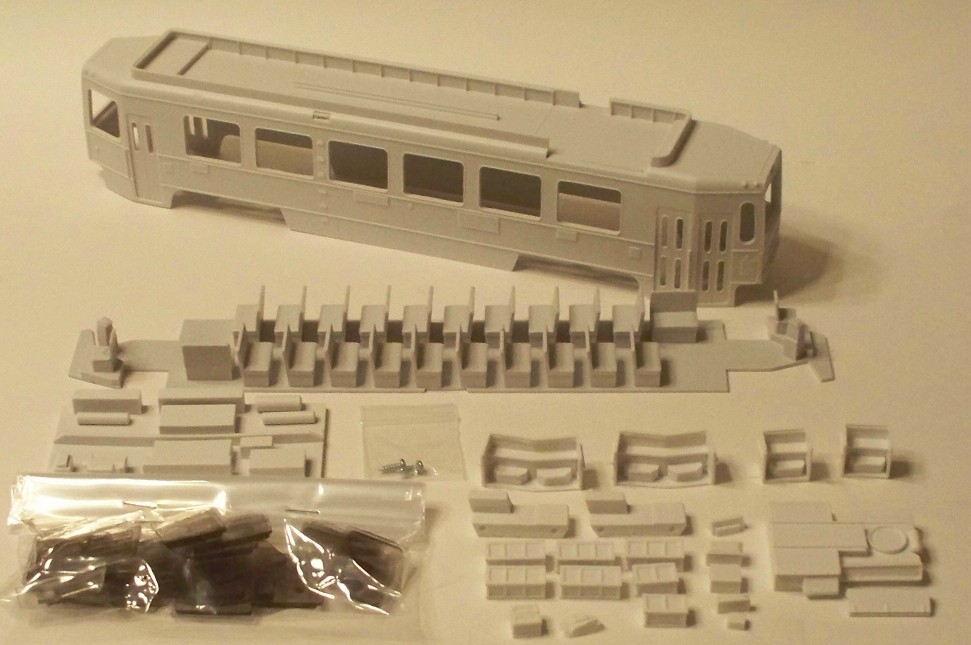 ORDER THIS KIT HERE.