HO Scale Budd SEPTA 'Almond Joy' Transit Cars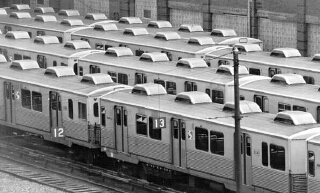 Prototype Photo
From an image taken by Stan Feldman

Philadelphia's Market-Frankford EL is the most important transit line in the City of Philadelphia, connecting the lower Northeast with West Philadelphia, through Center City. From 1961 to the late 1990s, the line was equipped with Budd cars, which because of their four roof ventilation fans, were nicknamed 'Almond Joy' cars by local transit fans. The cars were built in single-end and double-end configurations. Most services were made up of single-end cars. A few of the double-end cars served briefly on the Norristown High Speed Line in the early 1990s pending delivery of new equipment for that line.

This model represents the single-ended Budd cars which were operated in pairs. This shell comes in a 2-shell pack. The shells are one-piece, finely-cast resin components. A more complete shell kit for this car is available as part of our Standard Series and a powered version will be available in our Motorman Premier Series for those preferring a complete, powered model.

Availability: Direct from IHP in 2006.