1949 Red Arrow Double-End PCC Interurban
Delivered in 1949 to the Red Arrow Lines for their services out of 69th St. Terminal, these St. Louis Car Co-built vehicles were actually not PCCs, though they did make use of some PCC patents. They can be called quasi-PCCs, though 'interurban' is a more correct term to describe them. They were used on all the interurban trolley routes out of Upper Darby PA, including the West Chester line and the Ardmore line. They were retired in 1982 when new LRVs arrived.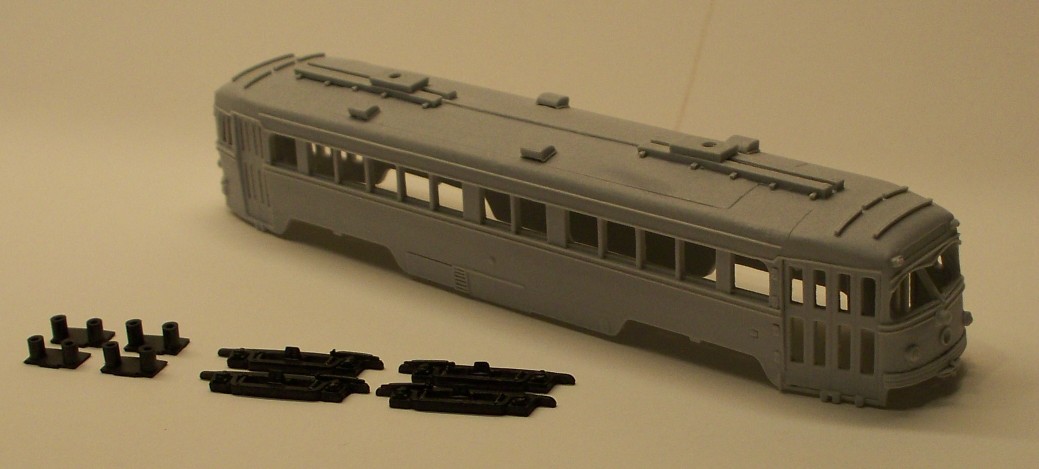 This model is available again both as a resin/3D-printed hybrid kit, and as a powered undecorated factory-assembled Ready-To-Finish (RTF) model. 3D printed parts for the kit version will be available separately from our Shapeways shop.

FEATURES:
Body Kit
*One-piece resin body shell with all details cast in place
*Detailed 3D-printed plastic MCB truck sideframes (fit Bowser trucks) ORDER HERE.
*Detailed 3D-printed plastic MU-style dummy couplers ORDER HERE.
*3D-printed plastic Frame accepts Bowser #125100 mechanism and dummy couplers ORDER HERE.

Shells are ordered direct from IHP, the 3D parts from our Shapeways shop.

For those that have purchased this shell in the past, you can get the frame and other parts for it from our Shapeways page. Shells produced after 2011 are designed to use the frame and parts.

Bowser drives and poles are available HERE for those building the kits themselves.
Custom Traxx has Red Arrow decals for these cars.

Ready To Finish Models
A factory assembled, powered, undecorated version is available for those who want the models ready to go. They are assembled with the components in the kit, and powered with the Bowser drive, wired and tested. Poles and Decals are not included but are available separately. All you need to do is paint it.

Painting is now available for shells and RTR versions. Two different schemes are available: PST/Red Arrow and Red Arrow/SEPTA. Price is $100 per paint scheme.

| | | |
| --- | --- | --- |
| 87196 | 1949 St. Louis Car Co. Red Arrow Double-End Interurban Body Kit (Body Only) | $49.95 |
| | | |
| --- | --- | --- |
| 87196A | 1949 St. Louis Car Co. Red Arrow Double-End Interurban RTF PWR | $159.95 |
AVAILABILITY: Now.
Secure Online Ordering Via Paypal

BODY SHELL


RTF VERSION

Availability: Not Currently Available.