#87121 HO Scale Silverliner III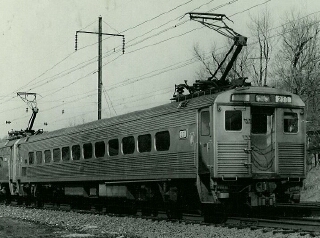 Click on photo to enlarge



Click on photo to enlarge

The Silverliner III MU cars were built for the Pennsylvania Railroad in 1968. Twenty cars were completed to supplement the order of Budd-built Silverliners delivered to the PRR five years earlier. Their main distinguishing features are the large squarish picture windows and lack of letterboards. The St. Louis cars were built with two different seating arrangements: 3-2 and 2-2. They were also built with their control stands on the left side of the engineer's cabs, as opposed to the more traditional right side. The reason for this was that the cars were intended as experimental 'pay as you enter' commuter MU cars, but in the event, the arrangement was not employed, and the cars remained oddballs in this respect. They were also built with provision for center doors, as the PRR and its commuter operations in the Northeast were undergoing changes which might require them to be adapted to high-level loading in the future. This feature also has never been realized, though future generations of Silverliners have been built with center doors, or also with the provision for them.

The cars were assigned to Philadelphia electric service, and occasionally, Harrisburg service. When Amtrak decided to use the remaining Metroliner MUs on the Harrisburg line in 1981, the Silverliner IIIs stayed in Philadelphia. After the PRR merged with the NYC in 1969 to form the Penn Central Railroad, the cars acquired PC logos, at first along with the Keystone logos, and then exclusively PC logos. Later, they acquired SEPTA meatball logos in the 1970s and block logos in the 1980s. In the mid 1980s, SEPTA completed its Philadelphia International Airport Rail Line, and the cars with 2-2 seating were chosen to receive special paint schemes not applied to any other Silverliners. This scheme was a yellow windowband with black PHL airport logos. Though they were used on the Airport line as intended, they also found their way into the SEPTA systemwide pool.

By the late 1990s, the cars were starting to show their age, though they still soldiered on. They were given SEPTA's new Silverliner image in the early 2000s, consisting of a new windowband graphic. Throughout their lives, they retained their road numbers: 220-239. The cars were retired in 2012 and most have been scrapped.

FEATURES:
*Easy-to-Build Kits
*One-Piece Body Shell
*One-Piece Floor with Underbody detail and Stepwells
*Interior with 3-2 seating
*IHP's own 3D-printed GSI General 70 dummy trucks
*Clear and Tinted Window Glazing
*Mounting screws and hardware

LIMITED REISSUE FOR 2017!

AVAILABLE: NOW.


Secure Online Ordering via Paypal

$8.50 shipping in USA, any quantity



AVAILABLE: NOW.


$8.50 shipping in USA, any quantity