HO Scale SEPTA Kawasaki Single-End LRV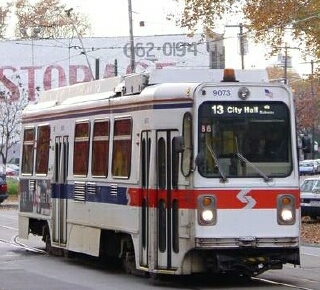 Prototype photo- photographer unknown

THE PROTOTYPES
These big cars (50' long) were delivered to Philadelphia's SEPTA in 1981-1982. 112 single-ended cars were built by Kawasaki Heavy Industries of Japan to replace the oldest of the PCC cars then still in service. Now found only on the subway-surface routes on SEPTA, the cars have gone through several paint schemes and even some minor physical changes. All are in service, a testament to the maintainence care given them by SEPTA's shop forces.

THE MODELS
This model is IHP's first injection molded plastic project which is being produced for us by a manufacturer in China. It has been designed by IHP's Mike Bartel, from his own CAD drawings and tooled to IHP specifications. It is an IHP proprietary project and is not a 'collaborative' or 'assisted' effort with another brand name; this is an original IHP-developed, contracted, funded and owned project.

The models will be all-plastic, and will feature injection molded plastic bodies, roof details, dummy 4-spring pole, frame, truck, wheel and underbody details and clear tinted plastic window inserts and clear headlight lenses (some will be painted in the correct colours).

Since the cars had transom windows when delivered but were later changed to single-piece solid windows, we will be offering cars with the frames printed on the windows or left off as appropriate to the paint scheme.

The underframe is designed to snap into the body; there are no screws in the construction/assembly of this model.

The first run of these models are intended as souvenir/gift display models. Thus, they are NOT powered models. They will feature fixed rolling wheels with detail.

NOTE: The rolling wheels are gauged to PA broad gauge to look prototypical; they will NOT fit on a stock HO track.

THESE MODELS WILL BE AVAILABLE ASSEMBLED AND PAINTED ONLY. NO KITS OR UNDECORATED MODELS.

PAINT SCHEMES, CAR NUMBERS AND DESTINATION SIGNS
This first production run will be a special limited commemorative run of the cars in their original 1982 delivery scheme (wide band around the car's waist) to commemorate 30 years of the Kawasaki cars in Philadelphia. (As pictured Below)


Two car numbers will be available: #9000 and #9111, the first and the last cars. Destination (for all cars) will be Route 10 via City Hall. Production is limited to 1000 models (500 of each car number).

THIS IS A SEPTA OFFICIALLY-LICENSED PRODUCT.

FUTURE PRODUCTION
We are planning to ultimately offer this model in the three different basic paint schemes that they have worn over the last 30 years. Later schemes will include (pictured at the top of the page) the narrow-band scheme from 1987-1997 or so, and then the current scheme of an all-white body with fadeaway stripe above the windows and logos on the ends. Different car numbers will be issued in each paint scheme run, making for maximum collectibility and model fleet purchasing. Destination signs will be printed on all cars. (NOTE: Car numbers, paint schemes and destinaion signs will all be randomly chosen and mixed for each run.)

POWERING
As mentioned, the models will NOT be available powered at this time, but we are considering making available a powering option. Right now, most likely this will come in the form of a 3D-printed plastic frame and truck detail parts kit, available from IHP's Shapeways page, that will require the purchaser to obtain a commercially-available drive mechanism (most likely, Bowser's new traction drive). The purchaser will assemble the drive and parts and then drop the completed mechanism in place. The reason for this is cost vs. market; we feel fewer powered models will be sold than display models and unpowered models were the original intention, so this would best accomodate those who wish to power their models.

IHP's PEDIGREE
We have over 15 years of experience in production of SEPTA Kawasaki LRV models in four different scales and we are familiar with the market for this model. We also have built a good relationship with SEPTA in that time, and we have access to individuals and reference information that have given us accurate detailing and graphics information and feedback that we have used to produce this model. We thank them all for their assistance on this project!

MSRP: $90.00 Ea.

WHERE TO GET THEM: SEPTA Transit Gift Shop and Direct from IHP. If not available from your favorite dealer, have them contact us.

PHOTOS OF FINAL PREPRODUCTION SAMPLE MODEL (Click to view):
LRV-002
LRV-003
LRV-004
LRV-005
LRV-006

AVAILABILITY: Christmas 2013?