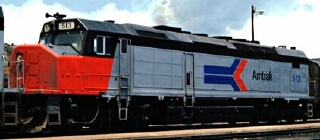 The SDP40F was Amtrak's first effort in 1972 to find a suitable new, general purpose passenger locomotive to replace the aging fleet acquired from freight railroads a couple of years earlier. The SDP40F used the frame and body of the EMD FP45, but with many body detail changes for passenger service, a shortened fuel tank, and new EMD trucks. The result was a completely different locomotive from the FP45, though the profile remained the same. The SDP40F's suffered several mysterious derailments which caused Amtrak to pull the majority of them from service in the mid 1970's. A few served until the end of the decade, but most were traded in on few F40PH locomotives. Some SDP40F carbodies were used in an EMD order from Chicago METRA, and they were delivered as F40C locomotives for Chicago commuter service. They are distinguished by their large louver panels on the sides. Seventeen SDP40F's went to Santa Fe Railroad, and after rebuilding, went into freight service as the SDP40Fu. Several still serve BNSF today.

FEATURES:
*This is a real SDP40F model, not an FP45 hybrid
*One-Piece Detailed Resin Body Shell
*Phase I shell (with pointed nose for first 30 units delivered)
*Models use modified Athearn FP45 mechanisms with correct shortened fuel tanks and correct HT-C truck sideframes
*Other details include truck sideframe details, working headlight, cab windows, and correct rear porch handrails (with predrilled holes on undec units)
*Powered Undecorated Units Only

For More Information on the SDP40F in Amtrak and Santa Fe service, see the following web pages:
1.Santa Fe SDF40-2's
2.Recent photos of SDF40-2's on ATSF

Availability: NOW. Order direct from IHP only. Allow 4-6 weeks for delivery.