#87202 HO Scale Budd R32 Transit Cars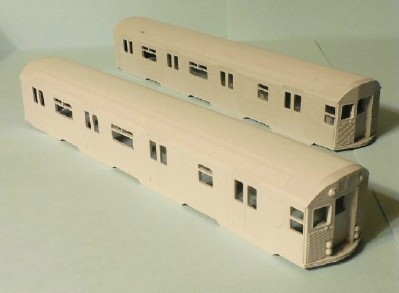 Body Kits require purchase of Bowser mechanism and trucks. Floors are configured for drop-in installation after some drilling and tapping of screw holes.
Resin R32 Body Shells are ordered direct from IHP (through our website and eBay store).
3D-printed parts available through our Shapeways.com store in the HO section. They are purchased separately. Use Bowser drive #125115 in power frame and trailer trucks with 33" wheels in nonpowered frame.

Special Thanks to Mr. Dion Small for his assistance on this project.

FEATURES:
*One-Piece Resin Body Shell (order below using Paypal, or HERE to use your credit card or mail order.)
*3D-printed Frame for Powered cars ORDER HERE.
*3D-printed Frame for Nonpowered cars ORDER HERE.
*3D-printed Truck Sideframes (fit Bowser trucks) ORDER .
*3D-Printed End Gates ORDER HERE.
*Instructions Available as PDF files for online viewing, printing or download

| | |
| --- | --- |
| 87202 | R32 Car Body KIT Nonpowered |
ORDER R32 BODY SHELLS NOW USING PAYPAL AUTOMATIC ORDERING. MSRP $69.95 (2-shell set).

INSTRUCTIONS HERE.


READY TO FINISH R32 SETS
R32 2-Car sets, Painted Silver, Ready To Finish, 2 Powered Cars with Bowser Drives. With End Gates and Clear Window Acetate.



Availability: Not Currently Available.