#87118HO Scale Prewar PCC Cars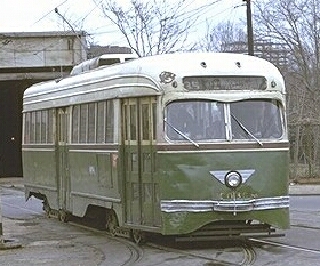 Prototype Photo of Philadelphia version

IHP's Prewar PCC car kit is designed to allow the builder to model nearly any standard 46-foot city-type PCC built between 1936 and 1942. With the exceptions of specialty cars like the Chicago, Boston or Washington DC cars, the modeler can make nearly any variation or modification using this revolutionary new IHP kit. The body shell is cast without doors or roof blister and certain other details to allow the modeler to apply them as needed.

FEATURES:
*Complete Convertible Kit
*One-Piece Resin body shell
*Choice of separate Blinker or Folding doors, three different Roof Blisters, anticlimbers, retriever, fender(all included)
*Metal Floor accepts New Bowser power mechanism with no modification
*IHP Trolley poles included in RTF powered kits
*RTF Powered kits now feature Resilient wheel covers

#87118 Kit requires Bowser #125100 mechanism to power the model. Bowser's #1250 trolley pole can also be used, as well as other poles from other makers.

IHP also offers the Prewar PCC in a built-up version, ready-to-run with Bowser drive and poles. These units are custom-built using the basic kit parts to a certain operator's specifications. All have the operator-specific doors, anticlimbers, roof shroud, lights, skirting, destination sign and other details. Watch for new models in the future. These RTF (Ready To Finish) models are sold undecorated (bare resin) only. Look for painted versions in our Motorman Premier Series.

Also, IHP is offering the drive mechanism for these cars separately for those of you with BEC or Q-Car Co. prewar PCC body shells. With a little work, our mechanism can be adapted to these shells. The mechanism consists of our Prewar PCC frame and Bowser's new PCC mechanism, and is prewired, lubricated and track tested.

| | |
| --- | --- |
| 887045 | Drive Mechanism for Prewar PCC |
*See Price List for prices on all items. Allow 3-4 weeks for delivery of mechanisms and RTR models.


Availability: NOW.


Order NOW. Order direct from IHP only. Production is very limited on all items.