SF MUNI 1948 'Torpedo' Double-End PCC
Since the PCC design was essentially modular, different designs could be built to a customer's specifications. The MUNI double-end PCC cars were built from standard PCC components and were built to similar specification as double-end cars built for Red Arrow and Illinois Terminal, with some differences in doors, width, truckbase and other mechanical features. They were delivered in 1948 and numbered in the 1006-1015 series. Most of the cars have been rebuilt and are in service today on San Francisco's F Line, in different heritage paint schemes of other double-end PCC operators.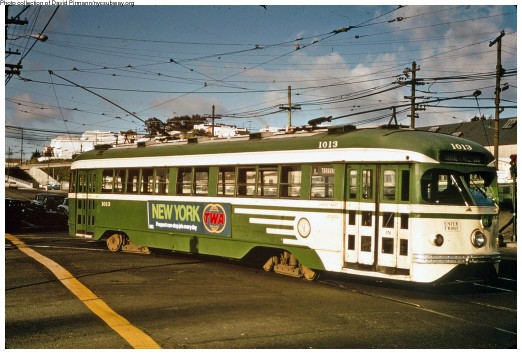 Photo: Collection of David Pirmann, from nycsubway.org

ABOUT THE MODEL KIT:
This model is an all-new tool that has been specifically designed for 3D-printing. It is intended to replace our former resin kit of the MUNI Torpedo. It is available in kit form from our 3D-printing shops on iMaterialise.com and Shapeways.com. The models have the correct dimensions, details and contours for this car. Kits are easy to build. The bodies represent the cars as-built. The roofwalk is printed separately to allow for better printing quality and easier painting. The frame accepts the Bowser #125100 mechanism and their #12600 trolley poles are an easy fit. The frame has the characteristic end fenders printed in place. The model sits at the correct height (12" street to step). Our model was developed from information provided by Andy Maginnis and Charlie Long of the East Penn Traction Club.
ABOUT THE 3D PARTS:
The body shell and the roofwalk are available from iMaterialise in their Prime Grey process. The shell looks like an injected-plastic body shell in grey, with good details, smooth sides and ends, and the material itself is stable, doesn't warp or distort like other processes, and can be cut or drilled like any other plastic. The roof may show some signs of 3D layering, but is easily smoothed or ignored. No special cleaning process is required (soap and water are sufficient), unlike some other 3D materials.

The frame is available from Shapeways in their Black, Strong and Flexible plastic process. The frame isn't meant to carry much detail other than major structures and it bears loads better than other materials. It can be drilled and tapped for screws.


FEATURES:
*One-piece body shell
*Separate roof walk
*Black Plastic frame accepts Bowser's #125100 mechanism
*Decal Sheet for 1950s MUNI green 'wings' scheme produced for this kit by Shoreline Decals (limited quantity left!)
*Easy Assembly

ORDER NOW! Click on each link to order that part from the 3D printing service's shop. Photos of the parts are on each item listing.
ORDER BODY SHELL (iMaterialise.com)
ORDER ROOFWALK (iMaterialise.com)
ORDER FRAME (Shapeways)*
*Note: Frame is designed to fit this 3D-printed resin shell and is not designed to fit the shell from our old resin kit.

If you would like to order the decals for the MUNI 'Wings' scheme pictured above, we have a limited supply of the sets printed for us by the late Paul Mayer of Shoreline Decals. Sets include SFMR logos, wings, striping and car numbers and are $8.50 a set, shipping included. First-Come, First Served. Order now via Paypal:
DECAL SHEET