SF MUNI 1948 'Torpedo' Double-End PCC
Since the PCC design was essentially modular, different designs could be built to a customer's specifications. The MUNI double-end PCC cars were built from standard PCC components and were built to similar specification as double-end cars built for Red Arrow and San Francisco, with some differences in doors, width, truckbase and other mechanical features. They were delivered in 1948 and numbered in the 1006-1015 series. Many of the cars have been rebuilt and are in service today on San Francisco's F Line.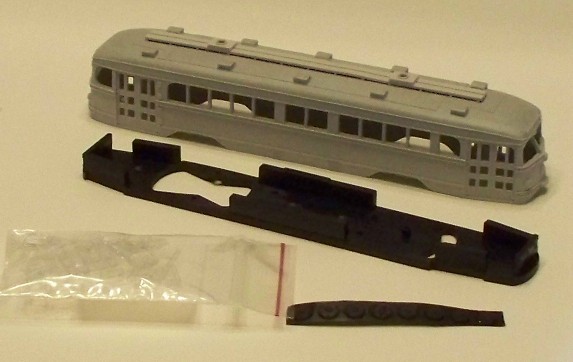 This model is an all-new tool with correct dimensions, details and contours for this car. Kits are easy to build. The model sits at the correct height (12" street to step) and was developed from information provided by Andy Maginnis and Charlie Long of the East Penn Traction Club. A handsome prototype and a fine-looking model., which we believe to be the finest PCC model available in HO scale.


FEATURES:
*One-piece resin body shell
*Separate roof walk
*Plastic frame accepts Bowser's #125100 traction drive
*Super Resilient Wheel Covers
*Clear flush-fitting window inserts
*Decal Sheet for 1950s MUNI green scheme produced for this kit by Shoreline Decals