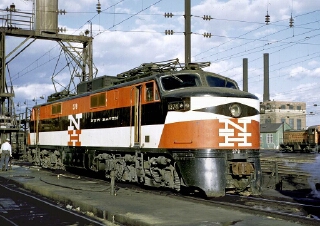 The New Haven EP-5 passenger locomotive. Known by crews as "Jets," these locomotives were built in 1955 for the NH, wore the "McGinnis" paint scheme, and were numbered in the 370 series (Ten were built, 370 thru 379). After the PC merger the eight surviving units were re-classed as E40s, numbered 4970-4977, and were painted PC black. They were originally slated for passenger service, but they proved to be unreliable, so they were put into freight service. Six E40s survived to Conrail, but were retired by the end of 1977.

IHP is marketing this fine model for its producer, New Haven Terminal (Branford Hobbies). Faithfully reproduced in thermal cure plastic (resin) this EP-5 captures all the beauty and details of the original.

FEATURES:
*Ready to Run (RTR) Undecorated Powered units and Shells available
*Crisp, clean casting on all components
*One-Piece Body Shell
*Athearn 5-pole motor powered mechanism with 12-wheel drive
*Custom cast-metal frame with underframe tank detail
*Custom-cast front and rear truck sideframes w/third rail shoe detail
*2 large pantographs, small pantograph and lightning arrestor parts
*Hancock horns, both ends
*Kadee-compatible coupler pockets
*Mounting Screws and Hardware
*Complete Instructions

If you buy just the shell, note that they do not come with any parts other than the resin shell. You are responsible for finding your own frame, pantographs, etc. If you need all these parts, we recommend buying a complete unit.



Click on the thumbnail to see a larger image of the RTR undecorated model

87506
GE EP-5 Electric Loco SHELL ONLY
87506A
GE EP-5 Electric Loco, RTR Undecorated
Availability: NOW. Order Direct from IHP. Models/shells will be shipped direct from the manufacturer. Allow 2-3 weeks for delivery.