HO Scale SEPTA Kawasaki Double-End LRV
By Imperial Hobby Productions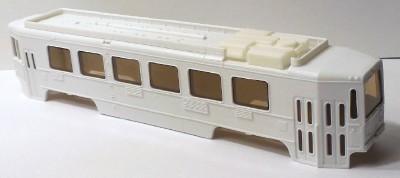 The double-ended version of the Single-End Kawasaki LRV was built for SEPTA's ex-Red Arrow lines operating out of 69th St. Terminal. The double-ended cars are 55' long, 5' longer than the single-end cars, and are 4" wider. They use pantographs for current collection and have different seating and door arrangements. Their trucks are similar to the single-end cars but have railroad wheels instead of super resilient wheels.

The IHP body kit is a multi-media kit, with a resin body shell, injection-moulded plastic windows and roof HVAC unit, which are part of the basic body kit. The kit can be ordered with a choice of windows: Transom (1982 to 2000) and Solid (2000-Present). Please Specify When Ordering. Order the basic body kit direct from IHP using the payment options below.

The rest of the kit consists of 3D-printed parts for the roof resistor grids, frame, truck sideframes and dummy couplers. The 3D parts are obtained from our Shapeways.com shop and links for each are provided below. Kits are supplied undecorated.

The kit is designed to use a Bowser #125100 drive. Appropriate pantographs are available from Sommerfeldt, but Mehano's Boeing LRV pantograph can also be used.

ORDER FRAME/TRUCK/COUPLER SET HERE.
ORDER ROOF DETAILS HERE.

BODY KITS
MSRP $54.95

Availability: Not Currently Available