Prototype Photo

The Budd Company of Philadelphia developed this car as an off-the-shelf, generic 75' design for startup transit systems. 290 cars were delivered in two orders to Baltimore's MTA and Miami's METRO system in the early-mid 1980s. Both fleets still serve their respective cities today.

This model is made from all-new tooling, and uses a new CAD-designed, 3D-printed pattern for the body shell. The frames and trucks are 3Dprinted and are available direct from our Shapeways shop. The entire kit is designed to take advantage of the benefits of all the processes used. The cars are built in married pairs, and the kits are sold in pairs. A ready-to-finish version will also be available, with silver-painted bodies and Intermountain 28" wheels.


BODY SHELL KIT AVAILABLE DIRECT FROM IHP
FRAME AND OTHER PARTS AVAILABLE FROM SHAPEWAYS

FEATURES:
*One-Piece Body Shell
*3D-printed Frame
*Resin Underbody Parts
*3D-Printed Trucks (for use with Intermountain 28" wheels)
*Clear Tinted Window Inserts

Availability: NOW.


BODY SHELL KIT SET $99.95
Shipping $10.00 in USA; Orders Outside the USA Contact IHP for an invoice

3D-PRINTED PARTS FROM SHAPEWAYS:

1. TRUCKS
2. FRAME
3. Coupler Cover and Truck Mounting Washer Parts
4. INTERIOR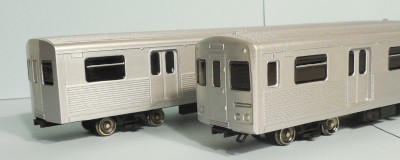 READY TO FINISH NONPOWERED 2-CAR SET
Assembled and painted (silver)
RTF SETS: Allow 2-4 weeks for delivery

Availability: Not Currently Available