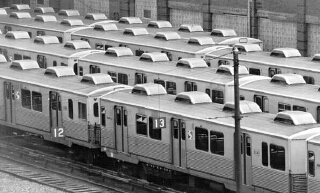 Prototype Photo
From an image taken by Stan Feldman


Philadelphia's Market-Frankford EL is the most important transit line in the City of Philadelphia, connecting the lower Northeast with West Philadelphia, through Center City. From 1961 to the late 1990s, the line was equipped with Budd cars, which because of their four roof ventilation fans, were nicknamed 'Almond Joy' cars by local transit fans. The cars were built in single-end and double-end configurations. Most services were made up of single-end cars in six-car trains. A few of the double-end cars served briefly on the Norristown High Speed Line in the early 1990s pending delivery of new equipment for that line.

This model is made from all-new tooling, and uses a new CAD-designed, 3D-printed pattern for the body shell. The frames and end gates are 3D-printed, available direct from our Shapeways shop. The entire kit is designed to take advantage of the benefits of all the processes used. The shell represents the single-unit cars (Class A-49, series 601-646, with operator's cabs at each end), and we will also be producing the married pair (single-end) cars.

BODY SHELL KIT AVAILABLE DIRECT FROM IHP
FRAME AND OTHER PARTS AVAILABLE FROM SHAPEWAYS

FEATURES:
*One-Piece Body Shell
*3D-printed Frame/Underbody
*Frames Available for Building Powered or Nonpowered Cars
*Frames Designed for use with Bowser Drive and trucks
*Kadee-compatible coupler pockets
*Detailed Clear Tinted Resin Window Inserts
*3D-printed End Gates
*Decals for 'Blue Line' SEPTA graphics
*Instructions available as a PDF HERE.

Availability: Not Currently Available.
BODY SHELL KIT $34.95

ORDER THE POWERED FRAME HERE. Price $18.95
ORDER THE NONPOWERED FRAME HERE. Price $18.95
ORDER THE END GATES HERE. Price varies- See Listing
ORDER THE THIRD RAIL SHOES HERE. Price $5.99