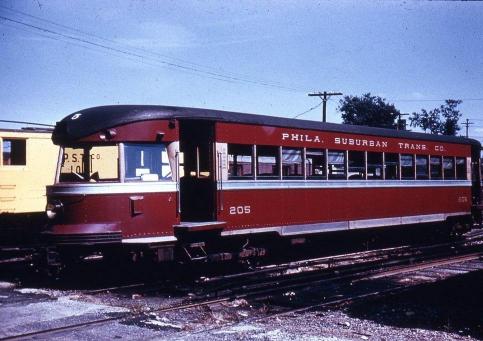 Photo: Rockhill Trolley Museum



The Brill Bullets were revolutionary vehicles. They were designed in a wind tunnel and constructed of aluminum to be able to achieve top speeds of 100mph. They were built for the Philadelphia & Western Railroad, a third-rail powered, high-speed rail line intended as a competitor to the parallel Pennsylvania RR Main Line. The P&W operated between 69th St. Terminal in Upper Darby, PA and Norristown, PA, a distance of 13.5 miles. The line never reached the company's goal of reaching Harrisburg. Today, it's operated by SEPTA as their Route 100 (Norristown High Speed Line). The Bullets ran until the mid 1990s when they were replaced with new equipment.



KITS (Resin Bodies and 3D-printed Frames, Truck Sideframes, Third Rail Beams and other parts)
*One-Piece Detailed Resin Body Shells
*3D-printed Frame ( uses Bowser #125110 mechanism with 30" wheels)
*Underbody details printed on frame
*3D-Printed Plastic Truck Sideframes, Third Rail Beams, Grabirons, Stirrup Steps and Couplers
*Instructions as .pdf files


LINKS TO 3D PARTS ON SHAPEWAYS:
Frame/Underbody
Brill 89E2 Truck Sideframe Set
Third Rail Shoe Beams
Couplers (nonworking)
Door Grabs
Stirrup Steps


Secure Online Ordering via Paypal Body Shell MSRP $39.95


Availability: Not Currently Available.