HO Scale SEPTA Kawasaki Single-End LRV
By Imperial Hobby Productions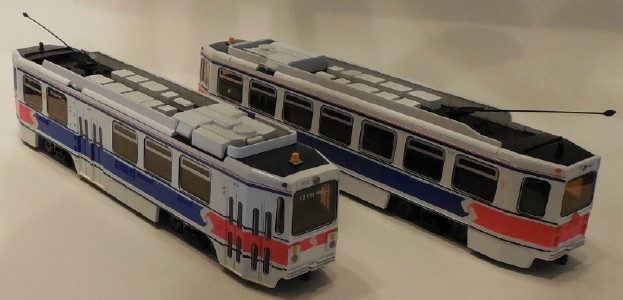 PROTOTYPES        MODELS        POWERING        MORE        AVAILABLE MODELS        LRV HOME        IHP HOME
---
FUTURE DEVELOPMENTS
IHP is working with ESU to develop a sound unit for these models. We have recorded sounds for the cars directly from the prototypes in open-air operation. ESU has already developed a DCC unit for lighting and adding a complete sound unit will make these models act and sound as realistic as they appear.

We are considering producing some short runs of these models in 'what-if' and 'Heritage' paint schemes, such as PTC green/cream, SEPTA 'Gulf Oil', and Red Arrow. Let us know if this would interest you.

VIDEOS OF POWERED KAWASAKI LRV MODELS
1. IHP Video of a sample powered LRV model
2. IHP Kawasaki LRV on the Abington Lines club layout. Model by Mike Junod.
3. IHP Kawasaki LRV by Charlie Long
4. IHP Kawasaki LRV by Guido Mandorf with pantograph instead of pole.

PHOTOS OF IHP KAWASAKI LRV MODELS
1. IHP Kawasaki LRV on the layout of Doug Oaks
2. IHP Kawasaki LRVs on the layout of Alexander Dathe
3. Photos of an IHP Kawasaki LRV powered by Eric Sitiko.

IHP's PEDIGREE
We have over 20 years of experience in production of SEPTA Kawasaki LRV models in four different scales and we are familiar with the market for this model. We also have built a good relationship with SEPTA in that time, and we have access to individuals and reference information that have given us accurate detailing and graphics information and feedback that we have used to produce this model. We thank them all for their assistance on this project!

WHERE TO GET THEM:
1) SEPTA Transit Gift Shop 1234 Market St Lobby. Phila, PA 19107.
(215) 580-7168 M-F 10a-5p, Sat 10a-3p EST. SEPTA offers discounts to passholders and employees, too!
NOTE: SEPTA Transit Gift Shop sales are to USA addresses only.

2) Direct from IHP. Order HERE. FREE SHIPPING WORLDWIDE for NONPOWERED MODELS (Direct From IHP Website Sales Only)

SPECIAL: For those that prefer to use eBay for purchases, check out our eBay store for discounted models and a 'Buy 2 Get a Special Price' offer.

AVAILABILITY: NOW.