HO Scale SEPTA Kawasaki Single-End LRV
By Imperial Hobby Productions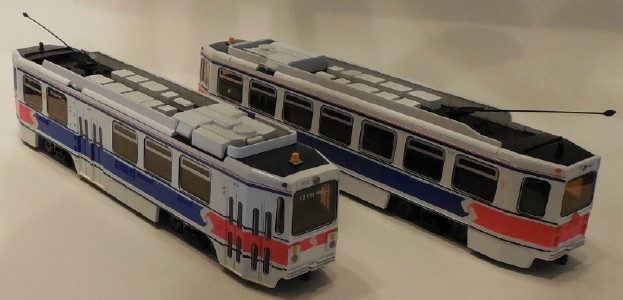 PROTOTYPES        MODELS        POWERING        MORE        AVAILABLE MODELS        LRV HOME        IHP HOME
---
THE MODELS
This model is IHP's first injection molded plastic project which is being produced for us by a manufacturer in China. It has been designed by IHP's Mike Bartel, from his own CAD drawings and tooled to IHP specifications. It is an IHP proprietary project and is not a 'collaborative' or 'assisted' effort with another brand name; this is an original IHP-developed, contracted, funded and owned project. This model is only the second mass-produced, injected plastic USA-prototype light rail vehicle model to be produced since the AHM/Mehano Boeing LRV model from the mid-1970s.

The powered models feature injection-molded plastic bodies, roof details, dummy 4-spring pole, frame, truck, wheel and underbody details and clear tinted plastic window inserts and clear headlight lenses (some will be painted in the correct colours). Models are powered with Bowser traction drives in our own all-new Kawasaki LRV diecast metal frame for best weight and performance. Models are wired for straight 2-Rail DC track operation.

As delivered, the cars had two-piece, openable transom side windows. Beginning in the 2000s, these were gradually replaced with single-piece solid windows. We can offer any production runs with the frames printed on the windows or left off as appropriate to the paint scheme.

The underframe is designed to snap into the body; there are no screws in the construction/assembly of this model, making for easy disassembly for anyone wanting to service the model or add interior detail.

DISPLAY MODELS DISCONTINUED! As of 12 April 2017, we are discontinuing sales of nonpowered display versions in favor of powered, RTR models. The display models were intended as souvenir/gift display models. They feature fixed rolling wheels with detail. The rolling wheels are gauged to PA broad gauge to look prototypical for a display model; they will NOT fit on a stock HO track. We now have a special DISPLAY BASE for these models available from our Shapeways shop. These and the 3D interior/display base parts for the display models are still available from our Shapeways shop.

INTERIOR/UNDERFRAME FOR DISPLAY ON HO TRACK! You can now fit a complete interior/chassis combination piece in the Kawasaki LRV body shell and display it on HO scale track. It has wheelsets gauged for HO scale and the same interior that is available separately. It snaps into the shell. Order it HERE.

INTERIOR! We have an interior available now for the display version. This one-piece interior has all seats, modesty panels, operator's partition and a farebox, not to mention seat grabs, all printed in one-piece from our Shapeways shop. The part prints in Black plastic for a silhouette appearance, and in White plastic for those wanting to paint their interiors. Order the interior HERE.

SUPERDETAIL PARTS! We now have 3D-printed roof detail parts available. This set of parts consist of new, highly-detailed roof resistor grids that replace the stock parts in their positions. Also included is a sprue of four new parts that are added to the model. These 'Detail-Up' parts will further enhance the realism and accuracy of the model, and are available HERE. Instructions for placement of these parts on the models: Page 1 Page 2 Page 3

POWERING OPTIONS FOR THE DISPLAY MODELS ARE AVAILABLE! See them HERE.

UNDECORATED KITS NOW AVAILABLE! We now have a small quantity of undecorated Kawasaki LRV kits available for those wishing to do their own finishing work. Kits consist of parts to build a display model from the box. No decals included. See the kit HERE. Instructions for building the kit are available HERE.

PAINT SCHEMES, CAR NUMBERS AND DESTINATION SIGNS
Models are available in all three SEPTA paint schemes from 1982 to the present day, with variations as necessary. Each car number is limited to 250 pieces. Each car number features a paint scheme, car number and destination sign combination that will not be repeated. The first models (Art.no 8701 and 8702) were commemorative models, recognizing 30 years of service of the Kawasaki LRV in Philadelphia.





All models packed in attractive LRV-graphic packaging (Click to see larger images)