HO Scale SEPTA Kawasaki Single-End LRV
By Imperial Hobby Productions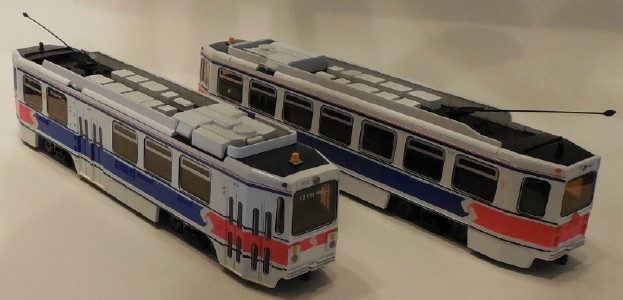 PROTOTYPES        MODELS        POWERING        MORE        AVAILABLE MODELS        LRV HOME        IHP HOME
---
AVAILABLE MODELS

#8701 HO SEPTA Kawasaki LRV 1981 'Delivery' Scheme #9000 (Route 10 City Hall via Subway)
#8702 HO SEPTA Kawasaki LRV 1981 'Delivery' Scheme #9111 (Route 10 City Hall via Subway)
#8703 HO SEPTA Kawasaki LRV 1987-1997 'Phase 2' Scheme #9038 (Route 10 63rd Malvern)
#8704 HO SEPTA Kawasaki LRV 1987-1997 'Phase 2' Scheme #9107 (Route 36 Eastwick Via Elmwood)
#8705 HO SEPTA Kawasaki LRV 2000-Present 'Phase 3' Scheme Ver.1 #9072 (Route 34 61st and Baltimore
#8706 HO SEPTA Kawasaki LRV 2000-Present 'Phase 3' Scheme Ver.2 #9054 (Route 13 Yeadon via Chester Ave, Digital Sign)
THIS IS A SEPTA OFFICIALLY-LICENSED PRODUCT.

Powered Models will be available mid-late Summer 2017. Undecorated kits are available now.

ORDER THROUGH AN ONLINE DEALER (Best for orders outside the USA):
M.B. Klein (Cockeysville, MD)
SEPTA Transit Gift Shop (Phila, PA)
Nicholas Smith Trains (Broomall, PA)

NOTE: If you don't see our Kawasaki LRVs on these websites, please call the dealer to see if they have the models you are looking for. We are not responsible for their online content or for updating their websites.